FORTHCOMING EVENTS

RENO, NEVADA
JULY1, 2023
ARTOWN CLASSICAL GUITAR CONCERT


SIERRA NEVADA GUITAR presents two classical guitar concerts in conjunction with the July 2023 Reno Artown Festival. Concert is free and open to the public, with donations requested at door.

Concert takes place at Reno Buddhist Center, 820 Plumas St., Reno, NV 89509.
Saturday July 1, 2023, 3:00-4:30pm

OPENING DAY, 2023 RENO ARTOWN FESTIVAL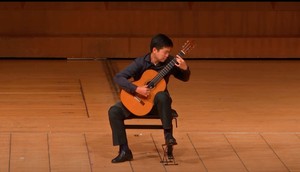 "
Eric Wang
is a fine player, he was featured on NPR's
From The Top
a couple of years ago. He's really good."
- David Norton, Chairman of the Board, American Guitar Society

"Eric is amazing."
- James Stroud, Director, James Stroud Classical Guitar Competition
Classical Guitarist ERIC WANG, now a student at Stanford University and San Francisco Conservatory of Music, makes his first appearance in Reno. Eric won 1st place prizes in the Sierra Nevada, Parkening, Stroud, and Guitar Foundation of America Youth Competitions. He appeared on the NPR show From The Top. In 2023 he was a Semifinalist in the prestigious Guitar Foundation of America Adult Competition. Known for his unexpectedly mature and artistic performances, Eric Wang offers what should be a memorable Artown concert.

* * *

For more info or to join our email list, send request to:
music@cgwest.org
Facebook:
www.facebook.com/SierraNevadaGuitarFestival

* * *
Thanks to all those who help make this series possible including:
Lawrence Smith, Artistic Director
www.lawrenceguitarist.com

Mike Clark, David Norton, Mike A. and - 
All of our sponsors, donors, volunteers, attendees, including

www.StringsByMail.com,
Artown Festival, Reno Buddhist Center.
(c) 2023
Sierra Nevada Guitar
Classical Gala West
Email:
music@cgwest.org
Mail:
Sierra Nevada Guitar
P.O. Box 18971
Reno, NV 89511